Advent 2018
A remarkable thing happened that first Christmas morning, Jesus Christ, God with us, was born. At. St. Paul UMC we believe that God is still with us bringing hope, joy, love, and peace.  This Christmas season start a new tradition and join us as we dive deeper into God's promises for you and your family.  Come celebrate Christmas with us!
Check out all of the upcoming activities planned for this exciting season!
This Advent Season, St. Paul UMC is offering many ways to to help prepare your hearts for the coming of Christ.  Each day a new devotion will be posted.  Also we invite you to join in our Advent Photo Challenge.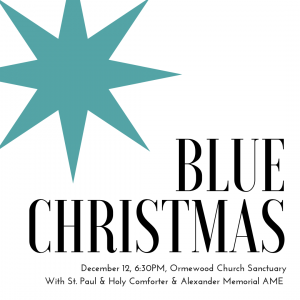 Blue Christmas Service
December 12 – 6:30pm – Ormewood Church
(1071 Delaware Ave SE, Atlanta, GA 30316)
Even in the midst of the joy of Christmas, this season can be difficult for many.  This service is designed for any for whom the Christmas Season may be difficult. Perhaps this is the first year you're celebrating the holiday without a loved one. Perhaps circumstances in your life have changed, or you just can't seem to get yourself in the spirit of the season. This service a way to be with others and to find light in the midst of the darkness.
Childcare is provided.
Kids Christmas Play
Sunday, December 16 – 11am
Join us in worship on December 16th for the Annual Kid's Christmas Play!  Join us for fun, joy, and the telling of Christ's birth!
Christmas Eve Services

December 24 – 5pm Family Candlelight
11pm Communion and Candlelight
Christ is Born!  Join us as we welcome the Christ Child!  Our 5pm service will be geared especially for families and our 11pm service will include Communion.
Join us for these special services!